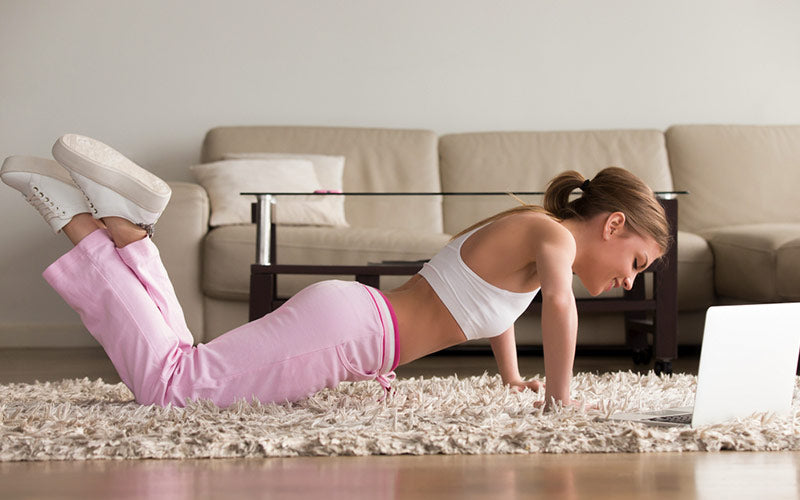 10 Daily Exercises To Stay Fit
Apr 15, 16
Just like ill maintenance of your power tools or your equipment can result in it being rusty and not functioning properly, the human also functions in a similar way. There is no possible way for you to steer clear from health complications and a long and healthy life until and unless you choose to live a healthy life style and incorporate exercise in your daily routine. In order for you to keep your internal machinery working and kicking even in the old age, all you have to do is give your body 15-20 minutes of exercise every day. Listed below are some daily exercises for people that are too lazy to hit the gym and want exercises they can do anytime and anywhere.
Basic Crunches
Basic crunches are for the Ab area and are effective for tucking away that beer belly. Be mindful of your posture when you do crunches, especially if you have lower back or neck pain. Lay on your back with the knees bent, put your hands behind your head, Pull your stomach inwards and curl up forward. In the beginning you can start with just ten to fifteen reps. Two to three sets are enough then you can increase your sets and reps as time passes by and your muscles start getting stiff. These daily crunches will keep your stomach flat and will never ensure a good physique and posture.
Push Up
Pushups are one of the most common and effective exercise proposed by trainers around the world. Simply doing 10 pushups a day can enhance your upper body strength and set you right on the path of fitness. Pushups build and fix your whole upper body posture including chest, arms, shoulders and wings. To do a push up in the right way, keep your legs stretched, back straight, push yourself up with your hands.
Leg up Crunch
Leg up crunch is an exercise for your lower abdomen and hips. You have to lie down keeping your back straight and raise both your legs at a 90 degree angle. Don't worry, if you can't raise both of them at once, you can start with raising one leg at a time. Gradually your muscles will open up and you can then raise both your legs after a few sessions.
Jumping Jacks
Jumping jack is called the queen of exercises - a basic exercise which is performed by almost everyone in their childhood. It is one of the most beneficial exercises which helps you increase your stamina and get a toned body. You can start with a two to three minute workout and work your way up to as many as you wish.
Squats
Squats are the most renowned basic exercise for keeping your whole body toned and in perfect shape. They are mostly used for shaping your lower body and hips. Stand straight, start bending your hips and knees, keep bending until your hips are below your knees and come back up in the same position. Be sure to keep your back straight at all times. Start out with ten to fifteen squats and then work your way up.
Planks
A fairly more difficult exercise, planks are for those that are already in the routine of exercising, it's a bit demanding but also the most effective exercise of them all. Get into a press up position, bend your elbows in a way where your body forms a straight line and rest your body weight onto your forearms. Suck your belly inside and stay in the same position for a minute. Planks reduce your back pain, strengthen your core, reduce your belly fat, increase flexibility, and also help to increase your mental strength and wellbeing.
Chair Dips
For those of us who want add to the level of endurance our inner triceps can take, chair dips is the way to go. By making your body rest and then pump on your triceps, you provide them with the much needed impetus to grow in muscle and reduce flab.
Get a chair that is sturdy enough to support your weight and rest your palms on it while the rest of body leaning on the support of your triceps in a face forward orientation. Once set, take lunges by keeping your weight supported only by your hands. 10 reps per set is great for starters while you can up the ante as time progresses and your comfort level increases.
Lunges
Without exercise, one of the areas which weaken the most is the part around the knee and the thighs. They stop supporting weight or are not flexible enough, both of which allows unnecessary bulk to accumulate in the very area. Lunges are great for strengthening your knees and building strong thigh muscles.
What you need to do here is to stand upright, rest your arms on your hips and then put forward one foot while lowering your body on to it. At the start keep the bend to a 45 degree angle as the muscles are stiff at this point and once you get used to it, increase it to a 90 degree posture.
Chest and Leg raises
This one looks quite difficult but it sure works out great as it targets the whole area around the abs and strengthens the other core thigh and hip ligaments. Lying face down, raise your chest and legs in the air simultaneously without getting the support of your arms. Get the muscles involved pull up on them, these increases the propensity of the ligaments to develop strength and avoid straining.
The Abdominal Hold
Making your arm muscles able to sustain the weight of your body, not through bare strength but a balance created by a tough core, is one of the best exercises to cut down on visceral fat in the wrong places. Sitting on a chair, put your hands on the chair and raise your feet while slowly trying to upend your whole body on the arms. It will be difficult to maintain balance at first and the required posture wouldn't last for more than 2-3 seconds, but daily practice will enable you to prolong those arm stays and get a great body that does not only look good but has the strength, endurance and core toughness to support and sustain it.
Before you move on the next level of exercise which might include aerobic yoga and probably weights, you need to make your body able to withstand the pressures it will encounter during those demanding physical routines. All great things require discipline which means sticking to one thing for period of time vigorously to prepare your body for the next level. Getting a great body is your goal, so you will have to work for it. An hour a day will make it around 350 hours of workout for the year, get going today to end up with that hourglass figure at the end of next year.